Join us for the 18th annual Brighid's Fire gathering at All World Acres. This exciting event will include live entertainment, main ritual, workshops, sweat lodge, drum circles, poetry reading, trade blanket, vendors, camping, and fun for the entire family.
Below are some of the the activities from last year. This year will be similar and will be updated soon.
The Goddess Brighid, exalted one, is the patroness of healing, poetry, blacksmithing, and arts. She is also associated with fire. All aspects of fire symbolism, including light, candles, heat, warmth and sunrises are also related to this goddess. The Brighid's Fire festival is held at All World Acres in her honor. Activities will include;
Come Dance With Me with Niki: Drum Circle Dancing for Non-Dancers - Come listen to the beat of the drums, feel the pull of the fire, and move your body. Niki will share ideas for getting in on the action without any complicated steps to memorize or the need to perform to someone else's standard. Dancers are encouraged to come and share their perspectives on their relationship with the Circle and their favorite ways to join the dance.
Crystal Bowl Sound Bath with Dru Ann. Let the sound of the crystal singing bowls melt away all tension. Leave feeling refreshed.
Elements of Poetry with Ashley Rae: Poetry is an art that expresses multiple layers of meaning, evoking emotion and expressing truth by both painting and composing with words. In this workshop we will practice collecting the elements through our observations and word choice, and write a poem together as a group, and start personal poems we can share at Bardic Circle should we so choose.
Becoming an Ego warrior with Dru Ann. Learn how ego traps us but we can win in the end and overcome some of the most difficult challenges we have to face. You are stronger than you know!
Native American Drumming and Chanting with Ghosthawk. Come experience the heartbeat of the Earth and learn to drum the Native way and sing the songs of the Earth. Connect in a way unlike others to the Earth and your brothers and sisters. Learn some songs of the Sweat Lodge and songs that can be used in Ritual. All drums and rattles are welcome or just join in with your voice. Some extra instruments will be available at the workshop.
Getting in touch with your inner self through Poetry with John Lago. A fun light-hearted way to bring out your emotions and unexpressed thoughts, dreams and even fears. Find a quiet space where you will let the words guide you. Then read it back to yourself to gain some insight and you may share it with everyone too if you choose to do so.
Chakra Meditation with Rachael. A guided meditation with Tibetan singing bowls.
The Sacred Fire Circle with Donella; Workshop will include fire circle etiquette.
Make a Joyful Noise with Amanda. Making drums and other rhythm tools out of boxes bottles etc.
Poetry Reading; Bring your favorite poems and share them with others at the community reading.
Bardic Circle; The community gathers to share stories, music, and fellowship.
Drum Circle; Join the community for drumming, dancing and meditation around the sacred fire circle.
Sweat Lodge; Presented by Grey Ghosthawk. A long standing tradition at AWA events.
Healing Circle; Always a favorite at these events, everyone will have the opportunity to share Reiki and other energy healing practices with the community.
Main Ritual; Honoring Brighid. Ritual celebration presented by the community.
General Info
The site for this event, All World Acres, has hosted more than 180 different events over the past 18 years. The site includes the community-built "Brent Stull Memorial Bathhouse" with hot showers and flush toilets, a covered stage, garden circle, organic garden, cafe, general store, and an air conditioned community center. AWA is a not for profit sanctuary and campground that is supported by the community it serves. All of the work done to prepare and facilitate the events are done by volunteers. Their only compensation is the satisfaction of working in a family-like environment to better the community at large. We hope all visitors will want to "join the family". AWA is located at 4715 Bruton Rd. Plant City, Florida 33565. Admission is only permitted during scheduled events (no drop bys). No arrivals after 9pm.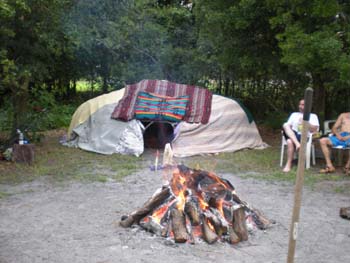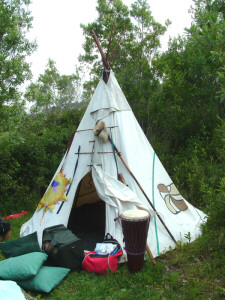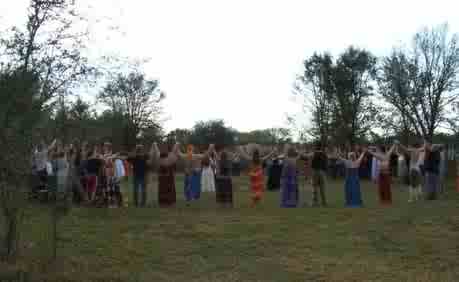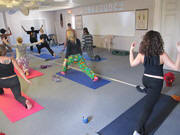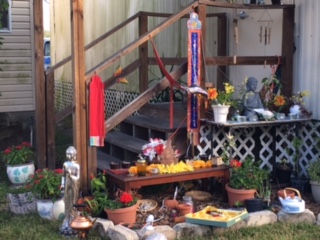 Admission Options
The Full Event
Brighid's Fire will begin on Friday at 1pm and run through Sunday at 3pm. The Adult Full Event admission in advance is only $25 if paid by January 30. If paid from January 31-February 15, the advance full event admission is $30. At gate full event is $35 per adult. This includes all entertainment, workshops and activities and also includes camping for the entire gathering. Youths 11 years and older are $10 for full event (10 years and under are free with adult). This is the most economical and practical option to enjoy all or most of the activities. Even if you don't want to camp this is the best option for activities on all 3 days. Day Passes will be available at gate for $15 and good through 9pm (no camping). Gates close at 9pm each evening.
Register early for best price and to help volunteers plan event. All admissions are a donation and may be tax deductible. Receipts are available at the cafe. Please note that admission donations may be transferred to another person or used for another event at All World Acres. There are no refunds. RV spaces are very limited so please call 813-748-071 to inquire.
Please register below with credit card or PayPal

Adult Full Event admission per person (includes camping) $25
Adult Day Pass per person $15 good 9am-9pm (no camping).
Youth Full Event admission per person $10
Vendors The vending cost is $10 per 10x10 space in addition to the full event admission.
Questions? Please call 813-748-0761 or email to: info@healingtoday.com
FAQ Frequently Asked Questions
Healing Today sponsors and hosts healing retreats, festivals, seminars, workshops, for all natural healing modalities, complementary and alternative health, and holistic health. Healthcare education is important to Healing Today and we hope to motivate individuals to appreciate the wonderful natural healing abilities we all share. We also present metaphysical , new age and earth based festivals and gatherings.