Divinity Retreat
for Ladies
April 27, 2013 at All World Acres, Tampa Bay area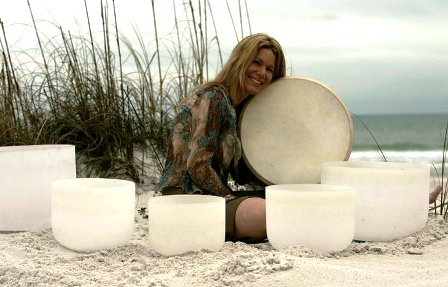 Reconnect with your divine inner beauty through a unique sequence of answering questions, discovering personal power, truth and discover integrating learning's through several different workshops. Including a group sound session. This combination has been proven to help people bring out their true selves. Step back from your day-to-day demands and activities for an extended period of time.

♀ Reconnect to your true self ♀ Relax at a deep level ♀ Rejuvenate your Spirit ♀ Take time for reflection ♀ Heal ♀ Contemplate ♀ Create ♀ Gain clarity on an issue or your life path ♀ Find meaning in your life beyond daily or material concerns ♀ Learn and practice methods to better yourself and your life.


This retreat offers, personal growth and letting go. A journey that has the potential to give "you" back to you! And in today's hectic time-starved world it becomes even more important to find time for renewal, time to step back and assess where we've come from. In retreat, discover who you really are after a lifetime of being everything to everybody. This is a space to dream and a place to let go in order to make room for a new way of being find yourself firmly based in your authentic self, and bring back some of your own joy and passion.

In a time when demands are increasingly placed on our lives. This retreat offers a variety of workshops for people from all backgrounds to explore, reflect, and nurture the self. Our retreat offers relevant ways for women to explore and understand their own spirituality.
Testimonial
The Women's Healing Retreat was a much needed exploration of self. I learned new ways to deal with issues of my past and present as well as any future issues that may arise. I conquered some fears and have found a path to start to forgive myself and learn to love myself. The connection, sharing and love felt with the other women was amazing! I developed some wonderful new friendships and strengthened some existing ones. Thank you!
Rachael
The Divinity Retreat will be hosted by Jessica Hope. The event is open to women only of all ages.
The Divinity Retreat will be from 10am-7pm on Saturday, April 27 at the Healing Today Wellness Center at All World Acres. Space is limited and does need to be pre-registered.
There is an optional meal plan of 2 healthy meals provided by Chef Adrienne. Or you may bring your own food and drinks. There is a refrigerator and microwave that you may use. Please note that there will be no alcoholic beverages at this event.
There is an optional VIP Divinity Retreat package which includes late night activities and breakfast on Sunday morning. With this option we will gather around the fire at night, enjoy evening meditation, and then a late night tea. Also you are welcome to sleep-over in the community center (bring sleeping bag or air mattress) or you may camp in the adjacent camping area. The VIP Divinity Retreat will start at 10am on Saturday and continue until 11am on Sunday, April 28.
Please do not hesitate to contact us with any questions. info@healingtoday.com or phone 813-748-0761.
Register Online with PayPal or credit card:

The Divinity Retreat; includes all activities from 10am-7pm on Saturday. $74
or the VIP Divinity Retreat package which includes all activities from 10am Saturday through 11am Sunday. $89
Optional Meal Plan is available for either of the above packages. This is for a healthy lunch and dinner on Saturday. $25
Registration by Mail; Send check or money order to All World Enterprises, PO Box 4825, Plant City, FL 33563. Be sure to include name(s) and an email address or phone number so that we can send confirmation info.
Florida, USA gathering events in Tampa Bay area, Clearwater St. Petersburg. Orlando, Plant City, Lakeland, Miami, Sarasota, Ft. Meyers, Ft. Walton, gulf coast, South, southern, western, Central network with festivals, rituals, workshops,gatherings, fair, seminars, conventions, retreats, to share and build community like atmosphere of village, tribe, goddess culture, Native American, new age, spiritual, mystic, to learn, practice, experience, enlightened sense of self and share, teach and learn about self, spirit, soul. Earth based, Gaia, spirituality, metaphysical festival.