Sustainable Living Conference
March 8-11, 2018

Scroll Down for Admission Info and Registration
Below are some of the activities from 2017 This year will be similar and details will be added soon
Presentations, workshops, demonstrations and discussion groups on living in sufficiency and balance with nature, in the rhythm of harmony and wellness
<![if !vml]>
<![endif]>Growing Love in Your Garden with Terry Meer. Come discover the power of community as the group discusses social permaculture principles to live in inter-dependence. In this workshop we will explore how permaculture principles and social permaculture can be used to create a web of community that result in personal joy and collective abundance. We will start from zone 00 (the inner landscape) to more completely understand how we manifest the world around us.
Wild Cooking Class with Hila Rubinstein from Everglades Treats
Learning by doing! How to incorporate wild edibles in our healthy meals and practicing zero waste. In this <![if !vml]>
<![endif]>interactive class we will be cooking together a veggie dish with wild greens & wild teas that each participate will be enjoying! Hopefully we can incorporate some ingredients from the edible walk that will take place at event.
BioChar Kitchen with Joe Pierce. Biochar is essentially charcoal that has been crushed and soaked or mixed with any type of fertilizer such as manure or compost tea. Once the porous structure of the charcoal is saturated it can retain the nutrient and moisture for long periods of time slowly releasing them to plant roots as needed. Because charcoal is almost pure carbon it is no longer biodegradable which allows it to persist in the soil <![if !vml]>

<![endif]>lending the benefits of its nutrient and moisture retention properties for thousands of years. Being that biochar is mineralized carbon, that would have become carbon dioxide gas in the decomposition of the organic material used to make the biochar, burying carbon in the form of biochar can greatly reduce CO2 emissions. The process of making biochar creates enormous amounts of heat that can be harnessed for all manner of uses such as cooking, water and home heating, as well as electrical production. This workshop will demonstrate multiple methods for producing biochar and discuss preparation and application as a soil amendment and fuel source.
Nine Layers of a Food Forest with Joe Pierce. In the nine layers of food forests we will discuss the benefits of <![if !vml]>

<![endif]>incorporating rotational grazing of livestock, the yields inherent in water features and medicinal and edible mushroom production as well as planning the human component into our food forests.
How Can Permaculture Change the World? with Koreen Brennan. Join Koreen Brennan, a highly recommended Permaculture Teacher and Designer, to discover how permaculture is addressing world scale problems on a local level in your neighborhood, and how you can participate and make a real difference.
Sustaining the Spirit & Body Qigong with Bob Abbenzellar. Join Bob as he takes a little time to give you the history of Qigong that will be followed by a 40 minute guided Qigong session. Feel the power that can arise through recognizing and using your life force.

Wild Edibles Walk with Andy Firk. Join the humorous but wise Andy as he takes us around the property educating us on Florida's spring edibles and medicinals that are growing right here available for us to use. His knowledge and experience as a wild forager is remarkable and extensive. You are bound to learn something no matter your experience foraging.
Keeping Backyard Bees and a "Bee Friendly" Garden with Eric Brierley. This workshop is for anyone considering adding honey bees to their homestead or backyard, or who wants to learn how to help the bees even if you are not planning to be a beekeeper. Learn the different types and methods of beekeeping, Florida regulations for beekeepers, and how to attract pollinators to your yard and garden.
What's the Buzz about Bees? (For kids) with Eric Brierley. Learn about how bees make honey and all of the different jobs they have. We will all learn to do the honeybee "wag tail dance" to tell others where to find tasty nectar. See what it looks like on the inside of a bee hive, and learn how to behave when you are near bees.
Choosing a Homestead Firearm with Eric Brierley. Like a chainsaw or a shovel, a firearm can be another tool for sustainability and homestead use. This workshop will examine the uses of a homestead firearm for various reasons including varmint control, hunting, and personal and homestead security. There are lots of options when choosing a homestead firearm. What is best suited to your needs? How will you use it? Basic safety and handling will also be covered.
Homestead Ecology and the Care of Chickens & Goats with Jessa Madosky. Jessa will share with us her experience as a homesteader and how to design your homestead from ecological perspective. She will also include a section on the use of chickens and goats in your homestead and the care they require.
Intro to Permaculture with Amelie Barry. Permaculture has started a small scale global revolution and changed the way people think about plants, animals, agriculture, and human interactions. This Intro to Permaculture will cover the following: -Difference between Permaculture and Modern Agriculture -How Permaculture can be adapted to almost any environment -Basic principles of Permaculture -The personalities behind the Permaculture movement -How home gardeners and modern farms can adapt to Permaculture principles -Why Permaculture can help the home gardeners and also help large scale agricultural operations -Local, State, National, and International Permaculture resources -How to begin your own Permaculture journey.
Seed Saving Workshop with Amelie Barry. In a world being overrun by GMO and hybrid seeds the importance of saving heirloom variety seeds becomes more important. This workshop will discuss the difference between heirloom, GMO, and hybrid seeds. In addition there will be hands on activity in how to save some common seeds for the home, small farm, or community garden. Topics in the workshop will include: -What seeds are viable for the home saver. -Why seed saving matters to home and small scale producers -How GMO Crops affect you, your produce, seeds, and your farm or garden -How to get started with seed saving -Fundamentals of good seed saving (crossers and selfers, how to promote good seed set, how to maintain your crop's genetics, isolation, population size, and roguing, etc.) -Simple seed cleaning and storage techniques.

Wild Edibles Walk with Sarah Palm. Join Sarah as she takes us around the property to identify florida native and naturalized plants. Many of them can be used as food, tools, and medicine. Listen to her tips and experiences with each plant and how you can start using them too.
Kid's Wild Edible Plant walk and Safety Tips with Sarah Palm. Kids get a chance to learn about consuming wild plants and all of the safety tips about working with plants. We will discuss a few of the common plants that grow abundantly in our area and are easy for anyone to identify.
The Water Cycle with Erin Morrison (KID FRIENDLY). Using various props Erin will talk about what the water cycle is, what human and non-human elements affect the water cycle, what is water pollution and what are some sources, what happens when you flush the toilet (where does it go and what happens), why we shouldn't flush anything in organic, where do we get our drinking water from, how do we clean our drinking water, and what kind of contaminants still remain in our drinking water after cleaning.
Bioregional Herbalism with Ruth Glass. Come learn about bioregional herbalism in supporting sustainability! We will discuss the role of bioregional herbalism as well as look at a few of the plants in Florida we can utilize in our healing while promoting sustainability!
My Intentional Journey to Sustainable Living with Cristy Abbott. As a Permaculture Activist since her Permaculture Design Course in Gainseville, Dec 2009, Cristy has been participating in, and developing permaculture activities in the St Petersburg area. She will share with you here experiences with Permablitzes, observing the Local Food (growing, harvesting, distributing, production, preparation, and presentation), living and starting Eco Villages, growing community gardens, developing co-op housing using permaculture principles and non-violent communication tools, designing living practices, and strengthening relationships within communities.

Basics of Sewing with Delphine Geraci. In this workshop Delphine will show you the basics of hand stitching, reading patterns, creating easy patterns, how to operate a sewing machine, and other great tips to reclaim your power in the world. Gandhi helped liberate his people by getting them to produce their own fabrics and clothes. Are you part of the next step in our revolution for a sustainable world? What items will you repurpose with a needle and thread?
The Basics of Fermentation with Jillian Ross. This class will be an overview and discussion of the beginning and basic techniques of traditional fermented foods and beverages. We will cover a bit of the history and methods used to ferment different foods and liquids. I will have ferments to show and share with the class. Please bring a vessel for sampling all of the goodies.
Pollinating Florida (KIDS WORKSHOP) with Ruth Glass. Come join this pollinator class where we learn about Florida pollinators, their importance, some of the environmental challenges against pollinators and how kids can help! Each of you will leave with a Florida native plant seed to take home!
Stranded on a Spoil Island! (KID WORKSHOP) with Loretta Buckner. Learn to filter water and other valuable survival skills with Permaculture Designer & Educator Loretta Buckner. This workshop is part of her "KinderGarden Permaculture for Kids" series and will include activities like a scavenger hunt! Parents are welcome to join in on the fun.
Cafe
The Café and General Store will be open throughout the event. The cafe will provide healthy food at reasonible prices. Please bring cash.
***************************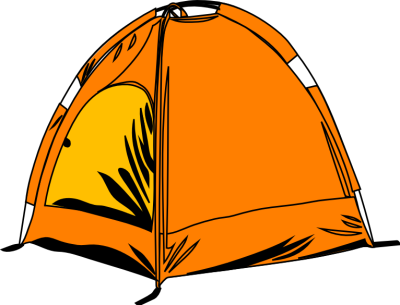 Come and camp for the whole weekend. This is a wonderful way to build community in a comfortable village atmosphere. Nightly bon fires for fellowship, nice shaded camping spaces and a bathhouse with hot showers.

Scroll Down for Pre-registration Options
*Because this event is being conducted in a natural setting, it is suggested that you wear comfortable clothing and footwear, considering the weather (dress in layers), and navigating non-paved terrain (possibly some dirt, but smooth and level).
While chairs of various sizes and comforts will be available, you may wish to bring your own.
Bringing your own paper and pens for note-taking is strongly suggested. Event is rain or shine.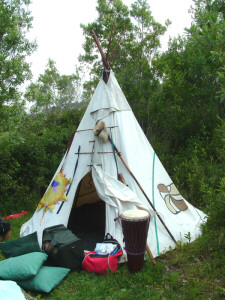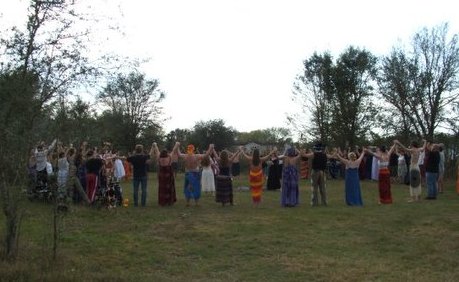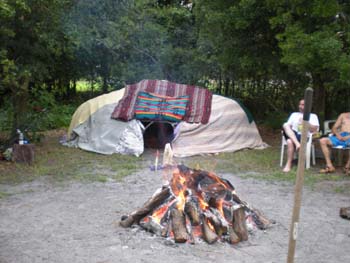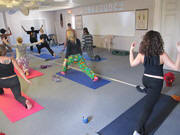 General Info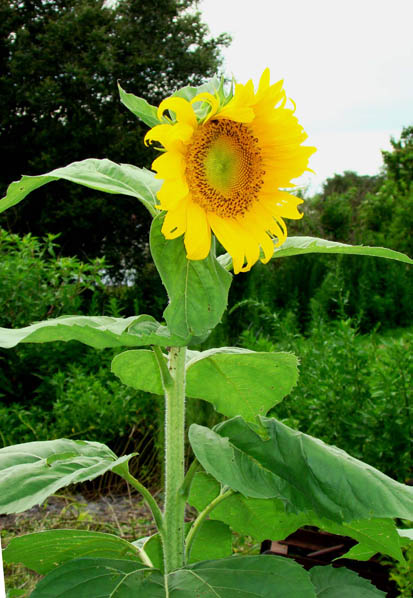 The site for this event, All World Acres, has hosted more than 150 different events over the past seventeen years. AWA is a not for profit sanctuary and campground that is supported by the community it serves. All of the work done to prepare and facilitate this event is done by volunteers. Their only compensation is the satisfaction of working in a family-like environment to better the community at large. We hope all visitors will want to "join the family" and treat AWA as their home. AWA is located at 4715 Bruton Rd. Plant City, FL 33565 (scroll down for directions). If you are a first time visitor to All World Acres please visit FAQ to learn about site policy. Admission is only allowed during scheduled events. No drop bys.

Admission Options with Camping
Full Event admission prices include all workshops, activities, and camping with hot showers and flush toilets for the entire event. This includes unlimited entry for anytime after 1pm on Thursday through Sunday at 4pm.
In advance Full Event admission if registered by February 15, is $35 (includes camping for Thursday, Friday, and Saturday). Full Event admission goes up to $40 if registered from February 16-March 7. Full Event admission will be $45 at the gate. Please use button below for online payment or see info at bottom of page for mail-in registration. You can checkout with credit card or Paypal account
Meal Plan is available in advance. Meal plan includes 6 meals (Friday dinner through Sunday Lunch). Water is provided to those who are on meal plan and have a reusable water bottle. Coffee, hot tea, and cold teas will be available for those on meal plan. Meal plan does not include sodas or bottled water from the general store.
Admission Options with No Camping
Day Pass Admission; Is for admission on any day of event from 9am-9pm. No camping or overnight. You may make payment for more than one day pass with buttons below.
Vending; There will be a limited amount of vending space so please register early. The cost for vending will be $10 per 10x10 space in addition to individual cost. Vendors must pre-register. No food vendors. Please use PayPal button below.
Event is rain or shine. The money paid for admission is a donation. No refunds.
| | | | |
| --- | --- | --- | --- |
| Full Event Admission (4 day ticket) includes camping | Early Bird | after February 15th | At Gate |
| Adult | $35 | $40 | $45 |
| Youths; 5-17 years old | $10 | $10 | $15 |
| Kids 4 and under | Free | Free | Free |
| Vending (plus admission cost) per 10x10 space | $10 | $10 | NA |
| | | | |
| Friday or Saturday Day Pass; 9am-9pm (no camping) | | | |
| Adult | $15 | $20 | $25 |
| Youths; 5-17 years old | $5 | $10 | $10 |
| Kids 4 and under | Free | Free | Free |
| Sunday Day Pass; 9am-4pm (no camping) | | | |
| Adult | $10 | $10 | $15 |
| Youths and Kids | Free | Free | Free |
| Meal Plan | | | |
| Adult | $45 | $45 | NA |
| Kids 12 and under | $30 | | |
----------------------------------------------------------------------------------------


Registration by Mail; Send check or money order to All World Enterprises, PO Box 4825 Plant City, FL 33563. Please include your email address to receive confirmation.
Click on links below to learn more
FAQ (Frequently Asked Questions)
It is each visitor's responsibility to be aware of site policy at All World Acres before arrival. This is sent as part of the confirmation email for those who pre-register. If you are planning to pay at gate then please visit FAQ to learn about site policy.
Directions
All World Acres is located at 4715 Bruton Rd. Plant City, Florida 33565. Please follow these directions and not your GPS or Google maps as they will lead you to the wrong street.

From Orlando: Exit I-4 #21 SR 39. Go north on SR39 for 5.2 miles and then left on Bruton Rd. Follow Bruton for 2.1 miles to 4715. Look for green sign on left with black unicorn. From Tampa or south of Tampa: I-4 Exit #21 SR 39. At exit turn left at light and go north on SR39 for 5.2 miles and then left on Bruton Rd. Follow Bruton for 2.1 miles to 4715. Look for green sign on left with black unicorn. From North of Tampa: Exit off I-75 onto SR54. Go east on SR54 to Zephyrhills. In Z-hills go south on US-301 for about a mile and merge left onto SR39 south. Follow SR39 south to right on Bruton Rd. Follow Bruton for 2.1 miles to 4715 Bruton Rd. 813-748-0761
Florida, USA Pagan gathering events in Tampa Bay area, Clearwater St. Petersburg. Orlando, Plant City, Lakeland, Miami, Sarasota, Ft. Meyers, Ft. Walton, gulf coast, South, southern, western, Central Florida Pagans network with festivals, rituals, workshops, craft, gatherings, fair, seminars, conventions, retreats, to share and build community like atmosphere of village, tribe, clan, of neo pagan religion. Come together with Celtic, druid, Wicca, wiccan, witch, witchcraft, goddess culture, Native American, new age, spiritual, mystic, to learn, practice, experience, enlightened sense of self and share, teach and learn about self, spirit, soul. Earth based, Gaia, spirituality, metaphysical festival. Celebrate Beltane, Beltain, Beltaine, Spring, equinox, May Day, Maypole fertility rite and celebration of life.