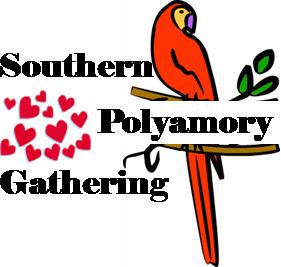 Spring

The Southern Polyamory Gathering
May 17-20, 2012 at All World Acres
Tampa Bay area, Florida

The Southern Polyamory Gathering will be held at All World Acres, Florida. This event will be an excellent opportunity for visitors to learn, celebrate, and network the polyamorous lifestyle. SPG will offer workshops, activities, and entertainment presented by members of the polyamorous community. The community at AWA has had plenty of experience presenting festivals that are always educational and fun.
Workshops and Activities
Planned activities include; A meet and greet party on the first evening to help everyone settle in, entertainment, nightly bonfire with drumming and dancing, several workshops by various presenters to help one understand and appreciate polyamory, camping, vendors, and so much more. Below is a list of some of the planned activities.

Dr. J and Julie, Bio-Tapp/ EFT Training; focus on releasing negative emotions in relationships, Thai Yoga for Couples and More, Poly Talk; daily open discussion of poly life, principles, and issues, Coming Out Poly: To or Not to Be!, What if your partner is Poly or interested in Poly and Your not? Moksha Magick; practical sex magick for couples and groups, Round Table discussion on Poly Family and children, Dance Lessons and Party with Helena and John, Drum Circle around the bon fire, Poly Healing Circle; open participation, How to Find a Poly Partner; ideas and discussion, Poly Legal Issues, Round table Discussion on the Green Eyed Monster and her sisters Envy, Competition, etc. with healthy poly couples. Basic Hatha Yoga Dailey, History of Polyamory discussion, Poly Volley Ball, and more!

There will be clothing optional areas and garden for nude socializing and sun bathing as well as for more adult themed activities as well as plenty of time for outside the box discussions and community building.

Please contact us if you would like to Vend or present at the conference as well. We are open to adding new speakers.
Please note that the focus and nature of the workshops and activities will be for adults. Small children (ages 6 and under) may attend with their parents providing they are supervised by a parent throughout the event. As there will be no program or facilities for older children we ask that they not be brought to the event.

Contact Dr. J or Julie at itta@core.com or by phone at (706) 358-8646 for more details.
Event Site
The site for this event, All World Acres, is a not for profit sanctuary supported and operated by the community it serves. Hundreds of people have visited AWA for over 100 different events in the last 10 years. Everyone is always treated like family in a safe and comfortable environment. The site features 2 different fire circle areas, a covered stage, courtyard, sweat lodge, spring fed pond, bathhouse, and a Cafe. The gates will open on Thursday at 3pm. The event will run through Sunday at 6pm. AWA is located at 4715 Bruton Rd. Plant City, FL 33565. Please note that admission is only allowed during scheduled events. No drop bys. First time visitors to AWA should be become familiar with policy here: FAQs and Site Policy.
Camping
All World Acres features primitive camping for tents and RVs. The bathhouse onsite features flush toilets and hot showers.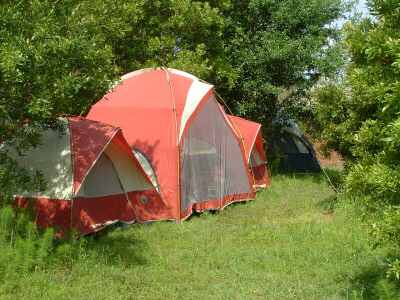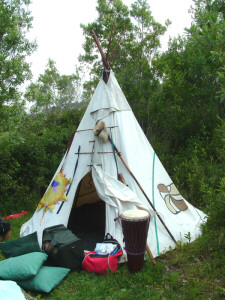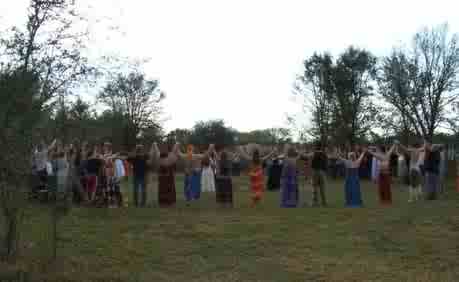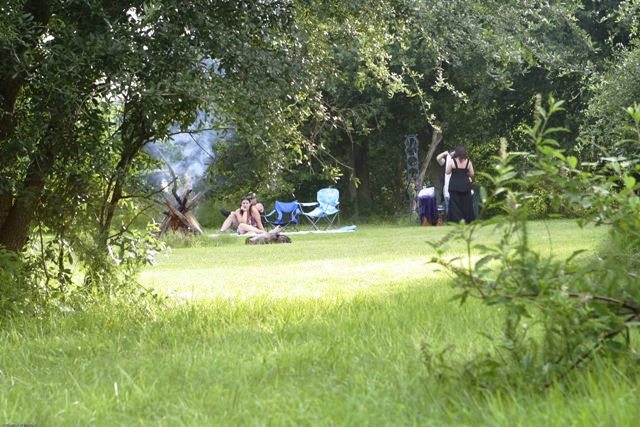 The Cafe
The Cafe at All World Acres will offer drinks, snacks, and prepared meals each day of the event from 9am-11pm. Prices are reasonable; most meals are $5-$10 each.
Off Site Lodging and Food
For those who do not want to camp there are motels just 7-8 miles away at the I-4 exit in Plant City. Also in Plant City there are several restaurants and grocery stores. More info on Motels sent via email on request.
Admission Packages
Please register as early as possible for this event. It helps the volunteers with event planning and also it will save you money. All admissions are a donation and may be tax deductible. Receipts are available at the cafe. Please note that admission donations may be transferred to another person or used for another event at All World Acres. There are no cash refunds.
This event is for adults only, however children ages 6 and under may attend at no charge with parent. Please no children ages 7-17.
Adult Full Event Admission: This option is for unlimited entry for every day of the event. This option allows you to come and go as you please at any time during the four days. It includes all entertainment, workshops, and activities. It also includes camping. Day Pass: Is for any one day of the event from 9am-9pm. Please note that this is a multi day event and we encourage everyone to come for the entire gathering. There is no other overnight or late night option other than the full event admission.
Vending space: There will be a limited number of vendors so please register early. The cost for vending is in addition to individual admission cost and is $10 for each 10x10 space.
If you have any questions regarding admission please call 813-748-0761.
Please note that space is limited for Vendors and for RVs. Please register as early as possible.
Online Registration
To register online you will need a PayPal account. If you don't have one, then follow the link on the shopping cart buttons and you can open one. The PayPal account is safe and free. When ordering just click on all of the buttons in the table below that apply to your order. They will be totaled automatically. If you make a mistake, don't worry, you will always have the chance to view cart and update. PayPal can be used to pay by debit card, credit card, or check.
| | | |
| --- | --- | --- |
| Admission Package | If registered in advance | If registered at the gate |
| Adult Full Event Admission. Early registration special if paid by April 1. This is for unlimited entry for the entire event. This includes all workshops, activities, entertainment, and camping. | $50.00 | 70.00 |
| Adult Full Event Admission (April 2--May 17). This is for unlimited entry for the entire event. This includes all workshops, activities, entertainment, and camping. | $60.00 | $70.00 |
| Meal Plan. This is for all all meals in the cafe. Includes Dinner on Thursday through Sunday breakfast. Those on Meal Plan are served first. | 49.00 | NA |
| Day Pass good 9am-9pm | $35.00 | $45.00 |
| Vending Space per 10x10 | $10.00 | NA |
Register by Mail
You may also register by regular mail. Send check or money order payable to All World Enterprises to address below. Please include name, address, phone and e-mail of person(s) being registered. This service is used for different events so please be sure to indicate that the registration is for SPG. The mailing address is All World Enterprises, PO Box 4825 Plant City, FL 33563.

Questions? Call 813-748-0761 or email to info@healingtoday.com
Frequently Asked Questions; FAQ
More info on activities;
For Info on All World Acres please visit; AWA
The Southern Polyamory Gathering is a festival event to network the poly lifestyle in Florida. Poly groups from Tampa St Petersburg Orlando Lakeland Brandon Plant City Sarasota and other poly communities in and around the Tampa Bay area and Central Florida. Retreat workshops will unite and create polyamorous alternative lifestyle community. Please add this to event listings for polyamory or alternative lifestyles festival pages. The Southern Polyamory Gathering has been combined with the Divine Ecstasy Retreat to create a new festival event. A place where those with interest in Tantra, polyamory, hedoism, bdsm, spiritual bondage sacred sexuality alternative lifestyles regional polyamory conference education by members of the community who share poly lifestyle Openly and honestly loving more than one person at a time, or ethical non-monogamy social experience learning fun in a safe comfortable atmosphere.