We all have intuition, we all have psychic ability, and this weekend retreat was designed to help you develop yours while creating your own divination tools, making friends, and rebooting our minds, hearts, and spirits.
Join us OCT 5-7, 2012 at All World Acres in Plant City, FL for a weekend of fun, relaxation, and spiritual exploration!
VENDORS welcome, especially if you sell divination tools, spiritual crafts, and books! Vendors need to pre-register and setup times are sent with confirmation.
If you'd like to lead a workshop, especially on I-Ching, Ogham, scrying, or any thing you love that you don't see listed here, please email me at AuthorAshleyRae@gmail.com!
Check out our schedule of workshops:
Friday

Psychic Protection
The first thing we need when pushing ourselves outside our comfort zones is to know that we are safe, and how to keep ourselves safe. In this workshop, we will perform psychic self-defense, learn about herbs, stones, and other physical protections that we can employ, and perform a ritual to protect ourselves and our space. Bring a notebook and any jewelry or stones you'd like to employ to protect you this weekend and beyond.
Sweat Lodge
The Sweat Lodge is a place to purify and pray. Modeled after the sacred ceremonies of many Native American tribes, this sweat lodge will help us purge toxins, fears, and doubts from our bodies, minds, hearts, and spirits. In the lodge we have the opportunity to emerge reborn as warriors, scholars, psychics, or whatever our personal Paths call for.
Divination By Karaoke Party
In my college years, a group of friends and I met up weekly to play Karaoke Revolution on my PS2. While using the random function, we discovered that the game tended to pick songs and lyrics that reflected what the singer had been talking about before taking a turn! Singing + Divination = Ecstatic Ashley Rae :D
"This ONE time..." (a discussion of paranormal experiences)
Have you ever dreamt an event and then experienced it? Do you have a story of an experience with a spirit or ghost? In this workshop we will share our stories of paranormal experiences of various types - premonition dreams, encounters with entities, experiences crossing the "veil," psychic visions, trances...whatever your story, come & share!
Saturday*
All About Intuition
What is Intuition? How do you access it? How can you tell whether your gut is trying to tell you something or it's just indigestion? We'll address all these questions and more, exploring the different types of Intuition and how they correlate to different types of intelligence, and perform some fun and basic exercises.
Astrology Basics
Before we work with tools, let's see how celestial bodies and abstract concepts interact with our lives. This workshop is meant to be an introduction to the planets, houses, and signs of astrology, with an opportunity to create your own natal chart.
Runes & Creating Our Own Oracles
Bring your runes, witches runes, or any other non-card divintion tool you have (ogham, stones, loose tea leaves, a bag of M&M's, etc.) If you don't have any, don't worry about it – we're going to make our own anyway, while learning how to cast, find symbols, and interpret them in this very hands-on workshop.
Reading Tarot & Other Cards
Bring any cards you'd like to read, including playing cards, pokemon cards, recipe cards...whatever floats your boat. In this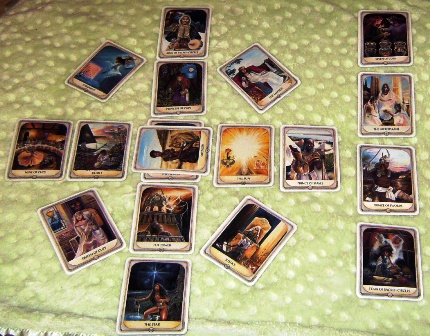 class we're going to focus on using visual aids to access our intuition and answer questions for ourselves and others. No prior knowledge of the cards required – just a willingness to let go of your fears and doubts and have fun with it!
Increase Your Psychic Abilities with Hypnosis
We are all born with this innate ability to be highly intuitive, clairvoyant and even communicate with other dimensions. Come join Michelle Meleo (http://michellemeleoonline.com/ ), to explore the innate powers of your own mind and your ability to increase psychic awareness with simple hypnotic techniques that safely activate the pineal gland, also known as the third eye.
During this workshop, Michelle provides simplified scientific explanations of the pineal gland (third eye) function in the human brain and how and why hypnosis can help to open and activate this gland. The workshop includes a hypnosis session to connect to your higher self and activate the third eye.
Numerology 111
What do your digits mean? Join us to learn the basic concepts of numerology, number symbolism and applications of numerology in daily life.
Mediumship & a Séance
There are few gifts more precious than connecting with a departed loved one. In this workshop we'll share our stories, discuss the different times of non-corporeal beings and how they interact with us corporeal ones, and methods of communication with spirit beings. At the end of our workshop we will use our spirit boards, cards, pendulums, whatever tools we feel most comfortable using, to communicate with our departed loved ones, angels, spirit guides, and any other being of love and light who has a message to pass on.

* Saturday only day pass available (see below).
Sunday
Dream Interpretation
Let's chat over breakfast (whether you bought the meal plan or brought your own) about the different types of dreams, the scientific and spiritual reasons for dreaming, how to interpret our dreams (and how to tell which dreams need interpretting,) and what we have dreamed this weekend. We'll also talk about how to develop the skill of lucid dreaming – where you control your dreams and explore your inner psyche and the spiritual realms while your body sleeps!
Reading Palms
We're going to make hand prints and learn some basic and intermediate techniques of palmistry. Bring your hands...and a notebook and writing implement.
Psychometry
Join us to practice sensing energy and getting messages from objects and places!
Auras & Chakras
Learn how to see and sense auras and chakras! We'll learn chakra basics, how to repair and manipulate our personal energy, and at the end of this final workshop we'll have a crystal singing bowl healing session/meditation/nap!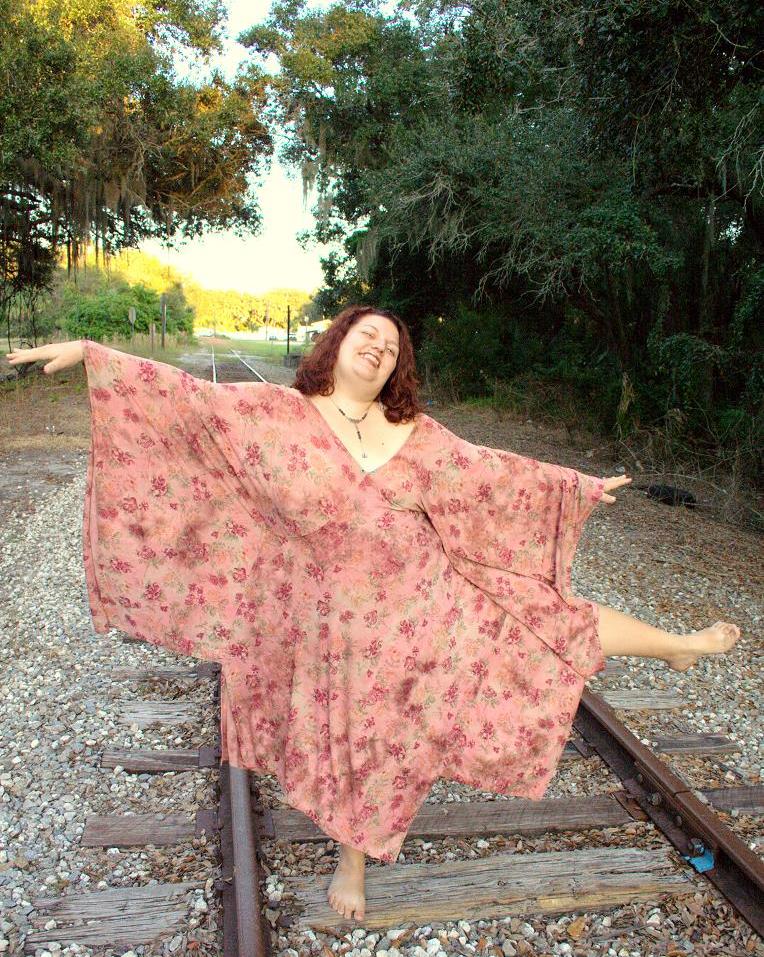 Ashley Rae has a Master of Fine Arts in Creative Writing from the University of Central Florida. Her first published book, Not My Mother: a Memoir, is available on Amazon, BN.com and Smashwords, and you can bet she'll have paperbacks with her at the retreat. She teaches workshops on self-healing tool, Intuitive Tarot, and The Incredible Vagina, which is simply the best title come up with for any class, ever. She is currently working on an Intuitive Tarot PLAYbook, and her second memoir, tentatively titled Sentence Interrupted: Memoir of a Moody Mama. Also a psychic and a Love Your Life Coach, there is plenty to check out on her website at www.AuthorAshleyRae.com. Email her at AuthorAshleyRae@gmail.com

General Info
Gates open at 3pm on Friday. All World Acres has hosted more than 100 different events over the past eleven years. AWA features an air conditioned community center, a cafe, a covered stage, 3 different ritual/fire circle areas, and a bath house with hot showers and flush toilets. AWA is a not for profit sanctuary and campground that is supported by the community it serves. All of the work done to prepare and facilitate this event is done by volunteers.
Site Location
All World Acres is located at 4715 Bruton Rd. Plant City, Florida 33565. This is a private sanctuary and visitation is only allowed during scheduled events. No drop-bys. Visit Online Newsletter for directions. It is each visitor's responsibility to be aware of site policy at All World Acres before arrival. This is sent as part of the confirmation email for those who pre-register. If you are planning to pay at gate then please visit FAQ to learn about site policy.

Admission Options
The Full Event
The Retreat will begin on Friday at 3pm and run through Sunday at 1pm. The Full Event admission includes all workshops and activities and also includes camping for the entire Retreat. This amount is per person 11 years and older (10 years and under are free camping with adult). This is the most economical and practical option to enjoy all or most of the activities. Even if you don't want to camp this is the best option for activities on all 3 days. Register early (by September 23) in advance for only $40 per person (11 years and older). Ages 10 and under with adult supervision are free.
After September 26, register online for $50 per person. At gate admission rises to $60 per person. Register early for best price and to help volunteers plan this event. RV spaces (no hookups) are limited – please call 813-748-0761 to inquire.
Saturday Day Pass: Choose this option if you only want to come to one or all of the workshops being offered on Saturday. The day pass is good from 8am-10pm (no camping or overnight) $40 in advance or $50 at gate.
Please register below with PayPal

Full Event (all activities for all 3 days) per person; $50
Saturday Day Pass per person. Good for 8am-10pm; $40

Meal Plan per person; $35. If you choose to add this option please register by September 30. Includes 5 meals including vegetarian options. Beverages are available at cafe for $1 each, as are other a la cart options.
Vendors are welcome but we hope you will attend the workshops. The vending cost is $10 per 10x10 space in addition to the full event admission.

If you prefer you may register By Mail: Please send payment to All World Enterprises: PO Box 4825 Plant City, FL 33563.
Questions about All World Acres or registration for this event? Please call 813-748-0761 or email to: info@healingtoday.com
Healing Today Home Page Online Newsletter
Healing Today sponsors and hosts healing retreats, festivals, seminars, workshops, for all natural healing modalities, complementary and alternative health, and holistic health. Healthcare education is important to Healing Today and we hope to motivate individuals to appreciate the wonderful natural healing abilities we all share. We also present metaphysical , new age and earth based festivals and gatherings. Classes are routinely held for yoga and tai chi.